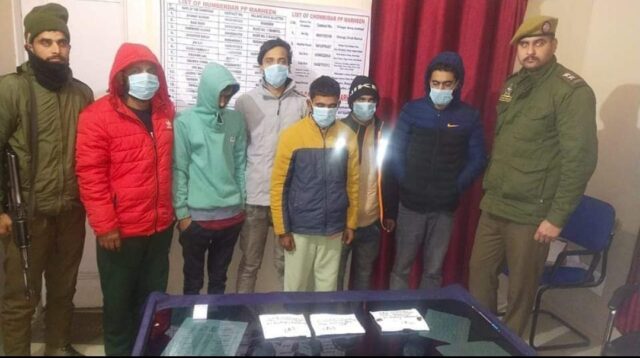 In Its recent action against drug dealings  and to neutralised the activities of drug peddlers within the district, Kathua Police under the overall supervision of  SSP Kathua Sh. R C Kotwal-JKPS today recovered approx. 5.04 grams of Heroin (Chitta) like narcotics from Khanpur area of Rajbagh Police Station, 06 persons were arrested, 01 vehicle alongwith  narcotics seized on spot.*
*On 06-01-2022 a Police team  led by PSI Swaran Singh IC PP Marheen under the supervision of SDPO Border Sh. Sachit Mahajan-JKPS during patrolling duty in its jurisdictional area near Khanpur noticed one suspicious vehicle(Mahindra Bolero) bearing Reg. No. JK08K-1923 which  was enrouted towards Link road Khanpur when reached near Banyari Pul, was directed to stop for checking. On physical  checking of 1. Rajesh Singh S/o Subhash Singh R/o Dharalta Tehsil Billawar 2. Sandeep Sharma S/o Sat Paul Sharma R/o Banhore Tehsil Mahanpur 3. Pankaj Sharma S/o Dev Raj R/o Pallan Tehsil Billawar 4. Sourav Sharma  S/o Subash Chander R/o Dambra Tehsil Mahanpur 5.Mukesh Kumar S/o Des Raj R/o Kupdi Tehsil Mahanpur  containing approx. 5.04 grams chitta  like narcotics was  recovered from their illegal possession.  Thereafter all the recovered narcotics was seized and all the six persons were arrested on spot. On this a case vide FIR No. 04/2022 U/S 8/21/22/29 NDPS Act has been registered at Police Station Rajbagh while further investigation is underway.*
*District Police consistent efforts against drug peddlers try to reassure the community members that we are making untiring efforts to keep our society free from the scourge of drug menace.*
#warondrugs.