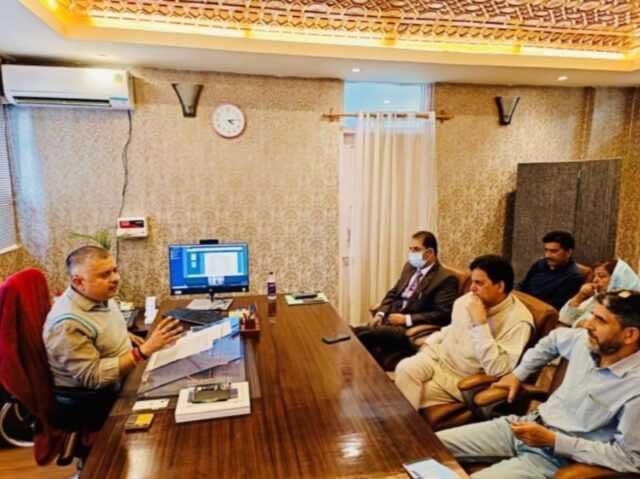 Secretary Administrative Reforms Department Amit Sharma took first meeting with Salim Khan, SIO J&K NIC and and other senior officers of NIC and department, followed by a sequel meeting relating to Deliverables planned for the whole year in which HODs including Dr Kabir, DG, Stationery & Supplies Department, Dr Firdous Giri, Secretary BOPEE, Mohd Ashraf Shaheen, Director Finance, Aijaz Akhoon, GM Government Press Srinagar, Purshotam Sharma, GM Ranbir Press Jammu, Muried Hussain Shah and Sunaina Sharma, Additional Secretaries, Aadil Bashir, Under Secretary and other officers of the Department participated.
During the first meeting relating to complete overhauling and automation of ARI & Trainings Department, Secretary Amit Sharma decided that there shall be complete overhauling and improvisation of existing Websites of the department including Ranbir Press Jammu's Website and at the same time, newly created website of Government Press Srinagar with the support of NIC J&K in a record time shall be soon dedicated to the public after its formal inauguration.
Amit also directed towards early finalisation of end-to-end Digitization of departmental services such as processing Migration cases of MBBS students, NDC issuance to retiring employees etc with the objective to eliminate human interface and paper-work in them so that the Department can utilise its potential and channelise its inertia in actual core activities such as Finalization of Recruitment Rules of All Departments, Conduct of Administrative and Financial Inspections of All Departments and Capacity Building of Government Employees working at different levels of hierarchy.
In a sequel meeting to it, Secretary ARI&T Department Amit Sharma had a thorough discussion on meeting the timelines in Deliverables recently approved on AC Meeting at highest level and HODs and Officers of the Department were given clear-cut directions to submit plans for same as per the nature of respective Deliverables as per Pre-approved timelines.
An important Administrative Reform to initiate the process towards making RTI Services Online was also deliberated upon and the officers of the department were directed to initiate a proposal on the pattern of the procedure being followed for same in the rest of the states and Union Territories.
Before culmination of the twin Meetings, all the participants assured Secretary Amit Sharma they shall work with total zeal and enthusiasm to meet the decided timelines for Deliverables which shall certainly help in changing the general perception about the Administrative Reforms Department, which is otherwise an extension of GAD and DARPG, Government of India.